Welcome to SoFi Stadium
Welcome to SoFi Stadium, an architectural masterpiece and a world-class venue for sports and entertainment enthusiasts. Located in the heart of Inglewood, California, SoFi Stadium stands as a symbol of innovation and modernity in the world of stadium design. This comprehensive guide is your key to unlocking the wonders of SoFi Stadium, as we take you on a journey through its history, architectural brilliance, notable events, and more.
The Iconic Venue in Inglewood
SoFi Stadium, often referred to as the "Crown Jewel of Inglewood," has become an iconic landmark in the Los Angeles area. Its striking design and state-of-the-art amenities have made it a must-visit destination for visitors from around the world. Whether you're a sports fan, a music enthusiast, or simply looking to experience a marvel of engineering, SoFi Stadium has something to offer everyone.
An Unforgettable Experience Awaits
Within the following sections of this guide, we will delve into the grandeur of SoFi Stadium, its rich history, the notable events that have graced its grounds, and the architectural and design features that make it a marvel. Additionally, you'll discover fascinating trivia and fun facts about the stadium, its cutting-edge technology, and the amenities that redefine the stadium experience. Whether you're planning a visit, attending an event, or simply curious about this magnificent venue, we invite you to explore SoFi Stadium and create unforgettable memories.
SoFi Stadium Overview
As you step into this iconic venue, you'll be captivated by its grandeur and innovation. SoFi Stadium isn't just a sports and entertainment venue; it's an experience that sets new standards for stadium excellence.
The Grandeur of SoFi Stadium
SoFi Stadium's architectural excellence extends beyond its stunning design. The stadium is situated on approximately 298 acres. This vast space not only accommodates the stadium, but also provides ample parking and facilities for events and visitors. It's a significant and well-planned area that contributes to the overall grandeur and convenience of the SoFi Stadium complex.
The Stadium itself is a massive structure with an impressive total square footage of approximately 3.1 million square feet, making it one of the largest stadiums in the world. SoFi Stadium's size and design contribute to its status as a world-class venue for various events, including sports, concerts, and entertainment spectacles. With a seating capacity that rivals the biggest stadiums in the world, SoFi Stadium can host over 70,000 fans. This means that whether you're attending an NFL game, a thrilling concert, or any other event, you'll be sharing the experience with a massive, energetic crowd.
A Landmark of Architectural Excellence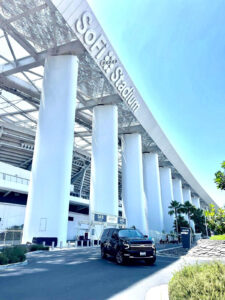 One interesting aspect of SoFi Stadium's architecture and design is its unique translucent roof. The stadium features the world's largest center-hung, 4K videoboard, which is suspended from this innovative roof structure. What makes it remarkable is that the roof is made of a transparent ethylene tetrafluoroethylene (ETFE) material, allowing natural light to filter through. This design not only provides a visually stunning experience for visitors but also creates a comfortable and open-air feel, even when the roof is closed. The combination of cutting-edge technology and architectural innovation in the stadium's roof design sets SoFi Stadium apart as a modern marvel in sports and entertainment venues. It's an excellent example of how architectural innovation can enhance the overall stadium experience.
Home to the Los Angeles Rams and Chargers
SoFi Stadium holds the distinction of being the proud home of not one, but two NFL powerhouses: the Los Angeles Rams and the Los Angeles Chargers. The presence of two NFL teams in a single stadium is a testament to the grandeur and versatility of this world-class venue.
The Los Angeles Rams, with their storied history and passionate fan base, bring the excitement of professional football to SoFi Stadium. As they take to the field, the stadium reverberates with the cheers of devoted fans, creating an electrifying atmosphere that's nothing short of spectacular.
In parallel, the Los Angeles Chargers, another formidable NFL team, call SoFi Stadium their home turf. Their thrilling games add another layer of excitement to this iconic venue, ensuring that every match is a spectacle to remember.
History of SoFi Stadium
SoFi Stadium is not just a stadium; it's a testament to visionary thinking, tenacity, and the triumph over numerous challenges in the journey from concept to reality. In this section, we explore the history of SoFi Stadium, from its initial vision to the modern marvel it stands as today.
From Vision to Reality
The story of SoFi Stadium begins with a bold vision to create a world-class sports and entertainment venue in the heart of Inglewood, California. The dream was to build a stadium that would not only be the home of two NFL teams but also a global destination for major events, including the Super Bowl and concerts featuring the world's biggest stars.
Over a span of several years, this vision evolved into a comprehensive plan. Renowned architects and engineers joined forces to design a stadium that would not only accommodate large crowds but also redefine the stadium experience. The result is a marvel of modern architecture and engineering, where every detail, from the seating layout to the state-of-the-art technology, was carefully considered to provide an unforgettable experience.
Triumph Over Challenges
The path from vision to reality was not without its challenges. Here are some of these challenges.
Urban Location: SoFi Stadium's location in Inglewood, California, is in a densely populated urban area. Building a stadium of this scale in such a setting required careful planning and considerations for minimizing disruptions to the surrounding community.
Environmental Concerns: The stadium's construction had to address environmental concerns. Part of the land on which SoFi Stadium now stands was previously used for parking and other commercial purposes. Ensuring that the redevelopment of the site adhered to environmental regulations was crucial.
Land Acquisition: Acquiring the necessary land for the stadium was a complex process. It involved purchasing parcels of land, some of which were already developed. Coordinating these acquisitions, along with considerations for eminent domain in some cases, added a layer of complexity to the project.
Regulatory Approvals: Securing regulatory approvals for a stadium of this magnitude is a multifaceted process. It includes zoning permits, environmental impact assessments, and compliance with building codes and safety standards. Navigating this intricate web of regulatory requirements required meticulous attention to detail.
Financial Considerations: Building SoFi Stadium was a multi-billion-dollar project, and ensuring that the financing and budgeting aligned with the ambitious vision was a challenge. Financial negotiations, funding sources, and budget management were integral to the successful completion of the stadium.
Logistical Complexities: The logistics of constructing SoFi Stadium in a busy urban area were formidable. Coordination of construction teams, materials delivery, traffic management, and more demanded a high level of planning and precision.
Stadium Design and Engineering: The design of SoFi Stadium was a complex undertaking. Creating a stadium that could accommodate over 70,000 spectators while providing unobstructed views, high-quality amenities, and a translucent roof required cutting-edge architectural and engineering solutions.
Timelines and Deadlines: Meeting construction timelines and deadlines was crucial, particularly when considering that SoFi Stadium was intended to host major events, including the Super Bowl and concerts, within a specific timeframe. Staying on schedule was a considerable challenge.
Despite these challenges, the construction of SoFi Stadium became a remarkable story of dedication and determination. It demonstrated the power of collaboration between architects, engineers, financiers, the NFL, and the local community.
A Modern Marvel in Stadium Construction
The stadium's modernity is not only evident in its architectural design but also in its sustainability efforts. SoFi Stadium is one of the most environmentally friendly sports venues globally, with a LEED Gold certification. Its sustainable features include rainwater harvesting, energy-efficient lighting, and a commitment to zero waste.
The history of SoFi Stadium is a remarkable narrative of a dream turned into reality, a triumph over challenges, and a symbol of modernity in stadium construction. As we explore its history, we gain a deeper appreciation for the incredible effort and innovation that have gone into making it one of the most iconic venues in the world.
Notable Events at SoFi Stadium
SoFi Stadium isn't just a sports and entertainment venue; it's a stage where history is made and unforgettable moments are etched into the annals of time. In this section, we'll explore some of the most notable events that have graced this iconic stadium.
Where History is Made
SoFi Stadium has become synonymous with history-making moments. Its state-of-the-art facilities and world-class amenities set the stage for sporting events that go down in history. The stadium has been the epicenter of thrilling NFL games, where records are broken, and legends are born. From jaw-dropping touchdowns to game-changing interceptions, this is where the NFL's most memorable plays come to life.
But history is not confined to sports alone. SoFi Stadium has also been a platform for cultural and entertainment milestones. With the world's largest 4K videoboard and impeccable acoustics, the stadium has hosted breathtaking performances and shows that have left audiences in awe.
The Super Bowl Spectacle
Every year, the Super Bowl is the most anticipated sporting event in the United States. SoFi Stadium proudly joined the ranks of illustrious stadiums as it hosted Super Bowl LVI, one of the most-watched and talked-about Super Bowls in recent history. The Super Bowl at SoFi Stadium was an extravaganza of entertainment, sportsmanship, and unforgettable halftime shows.
The stadium's vast seating capacity and top-notch facilities made it the perfect choice to host the biggest event in American sports. Super Bowl Sunday at SoFi Stadium is a spectacle that brings together fans, celebrities, and sports enthusiasts from around the world.
Unforgettable Concerts and More
Beyond the realm of sports, SoFi Stadium has also taken the world of entertainment by storm. The stadium's adaptable design allows for incredible concerts and live performances. Some of the world's most renowned artists have graced its stage, creating unforgettable experiences for music lovers.
Taylor Swift's Eras Tour: Pop superstar Taylor Swift brought her blockbuster Eras tour to SoFi Stadium for six sold-out concerts in 2023 .
Beyoncé Renaissance World Tour: Beyoncé performed at SoFi Stadium on September 4, 2023, as part of her Renaissance World Tour .
Metallica's M72 World Tour: Metallica performed at SoFi Stadium on August 27, 2023, as part of their M72 World Tour .
The Rolling Stones' No Filter Tour: The legendary rock band performed at SoFi Stadium on October 8, 2023, as part of their No Filter Tour .
Adele's 30 Tour: Adele performed at SoFi Stadium on October 14 and 15, 2023, as part of her 30 Tour .
U2's The Joshua Tree Tour: U2 performed at SoFi Stadium on October 22, 2023, as part of their The Joshua Tree Tour .
Coldplay's Music of the Spheres Tour: Coldplay performed at SoFi Stadium on November 11 and 12, 2023, as part of their Music of the Spheres Tour .
BTS' Permission to Dance Tour: BTS performed at SoFi Stadium for four nights in November and December 2023 as part of their Permission to Dance Tour .
Los Bukis' L.A. Reunion Concert: The legendary Mexican group Los Bukis reunited after 25 years for a historic stadium tour that kicked off in Los Angeles in 2023 .
Stadium Trivia and Fun Facts
SoFi Stadium is not just a stadium; it's a treasure trove of trivia and fun facts that make it stand out as a remarkable venue. In this section, we'll uncover some of the most intriguing aspects of this architectural marvel.
Oculus: World's Largest Video Board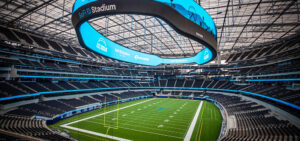 When it comes to cool things about SoFi Stadium, the world's largest video board takes center stage. Suspended from the stadium's translucent roof, this colossal videoboard is a technological wonder. With a resolution that's four times clearer than 4K, it ensures that every seat in the house has a view that's as crisp as being courtside.
The videoboard isn't just large; it's a spectacle in itself. With its immense size and stunning visual capabilities, it's more than just a screen; it's a canvas for creating immersive experiences, whether it's instant replays, larger-than-life graphics, or breathtaking visual effects.
Every Seat is the Best Seat
One of the cool things about SoFi Stadium is that there's no such thing as a bad seat. The stadium's seating layout is designed to ensure that every spectator has an exceptional view of the action. The impressive sightlines are a testament to the architectural ingenuity that went into creating this stadium.
Gone are the days of craning your neck or squinting from a distance. SoFi Stadium's seating design ensures that every fan gets to experience the game or performance as if they were in the front row.
Discovering the Unique Features
As you explore SoFi Stadium, you'll uncover a host of unique features that make it a one-of-a-kind venue. Its distinctive translucent roof, for instance, not only lets in natural light but also closes to create a climate-controlled environment, ensuring that events can take place under ideal conditions.
The stadium's commitment to sustainability is another cool aspect. It has achieved a LEED Gold certification, which is a testament to its eco-friendly features, including rainwater harvesting, energy-efficient lighting, and a zero-waste goal.
Every corner of SoFi Stadium tells a story of innovation and technology. From the app that guides you to your seat to the impressive food and beverage offerings, this stadium is designed with the visitor's experience in mind.
These are just a few of the cool things about SoFi Stadium that make it a must-visit destination. As you attend events or take a guided tour, you'll have the chance to discover even more remarkable features that set this stadium apart.
SoFi Stadium Technology and Amenities
SoFi Stadium is a technological wonderland where innovation meets the ultimate fan experience. In this section, we'll explore the cutting-edge technology and premium amenities that make this stadium a true marvel.
A Technological Wonderland
One of the standout features of SoFi Stadium is its state-of-the-art technology. At the heart of this technological marvel is the Oculus, a monumental 2.2 million-pound circular double-sided 4K videoboard. The Oculus stretches an astonishing 120 yards, making it the largest videoboard in sports. The sheer size and clarity of this screen create a visual spectacle that immerses spectators in the action like never before.
But the wonder of technology doesn't end with the Oculus. SoFi Stadium's app is your personal concierge, guiding you to your seat, offering instant replays, and allowing you to order food and drinks with a few taps. It's a game-changer in the world of stadium technology, ensuring that every fan's visit is convenient and memorable.
SoFi Stadium Oculus Screen Cost
While the exact cost of the Oculus screen at SoFi Stadium is not publicly disclosed, it's clear that the investment in this technological marvel was substantial. The enormous size and high-resolution capabilities of the Oculus create a one-of-a-kind experience for visitors. The screen's cost is a reflection of the commitment to providing fans with a cutting-edge visual spectacle that sets SoFi Stadium apart from other venues.
Premium Experiences for Fans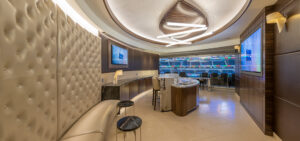 SoFi Stadium redefines what it means to be a fan. Premium experiences are woven into the fabric of the stadium. The VIP Suites offer luxury and privacy, providing an exclusive atmosphere for groups to enjoy the game or event. The Field Club offers an up-close view of the action, with seats located right on the field and access to premium amenities.
For those looking for the ultimate experience, the Bungalow Suites provide a private retreat with all the amenities you could dream of. SoFi Stadium's technology and amenities extend to premium seating, ensuring that fans have access to unforgettable moments.
Comfort and Enjoyment Redefined
When it comes to comfort, SoFi Stadium sets a new standard. The stadium's seats are designed for maximum relaxation, and the climate-controlled environment ensures that every event is enjoyed in ideal conditions. The food and beverage offerings are diverse and cater to a variety of tastes, from gourmet options to fan-favorite classics.
SoFi Stadium is also committed to sustainability. With a LEED Gold certification, it's one of the most environmentally friendly sports venues globally. Rainwater harvesting, energy-efficient lighting, and a zero-waste goal are just some of the measures that make this stadium a model of eco-consciousness.
Conclusion
In the heart of Inglewood, California, SoFi Stadium stands as a true testament to innovation and entertainment. It's more than just a stadium; it's an experience that transcends the boundaries of traditional venues. As we conclude our exploration of this architectural marvel, we invite you to consider what your SoFi Stadium experience could be.
Embodying Innovation and Entertainment
SoFi Stadium is a symbol of innovation. From the colossal Oculus to the eco-friendly features, it's a stadium that embodies the best of modern technology and sustainability. The commitment to creating an environment where every seat is the best seat and every moment is an unforgettable one is what sets SoFi Stadium apart.
Your SoFi Stadium Experience
Your experience at SoFi Stadium is a blank canvas waiting for you to fill it with memories. Whether you're cheering for your favorite team, singing along with your beloved artist, or attending a special event, SoFi Stadium offers a stage for your stories. The stadium's adaptability ensures that every visit can be unique, offering something for sports enthusiasts, music lovers, and families alike.
Create Memories at SoFi Stadium
SoFi Stadium is not just a place to watch; it's a place to create memories. From thrilling touchdowns to breathtaking concerts, every moment here has the potential to become a cherished memory. So, whether you're a local or a visitor, a passionate fan or a curious spectator, we invite you to step into this world-class venue and start creating your SoFi Stadium memories.
As the sun sets over this architectural marvel, the lights come to life, and the crowd roars with anticipation, you'll realize that SoFi Stadium isn't just a place; it's an experience. We hope you have the opportunity to be a part of it, to witness history, and to create your own stories within these grand walls. So, what will your SoFi Stadium experience be?
LA Confidential: Your SoFi Stadium Connection
When you're ready to embark on your exploration of the marvel that is SoFi Stadium, trust LA Confidential to elevate your experience. Our premier limo service to SoFi Stadium ensures you arrive in style, with professional drivers who know how to navigate the bustling LA scene. With LA Confidential, your journey is not just about getting there; it's about getting there in the utmost comfort and luxury, and our private car service in LA promises to make your SoFi Stadium visit an unforgettable one.